Skilled Resource Augmentation
Augmenting resources is the easiest and the fastest way to increase development capacity based on instant requirements. Especially in temporary scenarios and at instances where you are unable to reach deadlines with in-house development capacity, resource augmentation is the ideal option that is highly cost-effective. Softvil is in the industry of outsourcing software development resources to European and Asian markets for several years. We are able to provide technical resources with exceptional skillsets and expertise in multiple cutting-edge technologies to make your project a success.
Softvil Technologies is capable of managing recruitment services based on project requirements and various capacity levels.

Our hiring process includes 05 key steps that we follow to handpick exception resources to fit project requirements.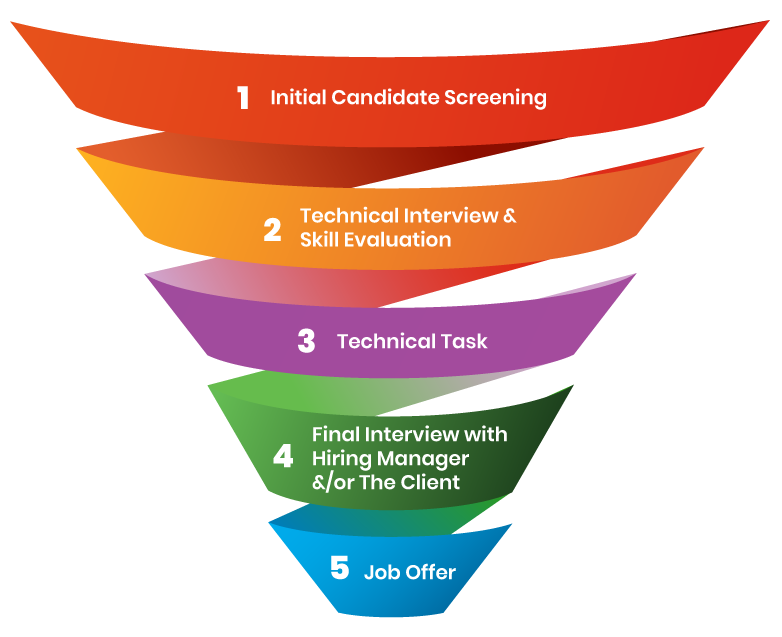 A dedicated team is recommended model for those who are looking to directly manage the development work in projects. We will arrange a set of expert engineers based on your requirement to work with you or reinforce your in-house team being readily available in the required timeframe. Likewise, these dedicated teams will be engaged in project development work in our state-of-the-art remote workspaces that are well-equipped to continue a hassle-free work routine.
How We Setup Our Projects
Business Case
Initial discussion about key details of the project and the plan of action.
Feasibility Study
Research and brainstorm covering all the aspects of the project to determine successful completion
Project Charter
The structure recommended for the project and the plan of execution.
Team Composition
Finalizing the ideal talents required for the project execution.
PMO
Assembling the project team and establishing the project management office for execution.
Final Review
Review of the initiation phase to ensure all aspects are covered to progress the project.